Students can start arriving at 7:20 AM. The school day begins at 7:40 AM and ends at 2:15 PM.
East Salem Mission Statement
The mission of East Salem Elementary School is to create an atmosphere where children become competent learners, creative thinkers, and responsible, involved citizens. We will strive to create an appreciation of cultural diversity within our school through coordinated efforts involving students, families, staff, and the community.
Trending Now At East Salem
Smiles VA Dental Clinic is Back!
Smiles VA Dental Clinic will be back at East Salem on Wednesday, May 3, and Thursday, May 4. If your child has already been registered, the clinic hopes to see him/her over the next two days.
Our dental clinic has been rescheduled for
April 19 and 20th!
Dental Clinic
East Salem Families,
The dental clinic for East Salem has been rescheduled! The clinic
provided by Smiles VA will take place at East Salem
on Wednesday, April 19th, and Thursday, April 20th.
If your child was previously registered to attend the clinic, no further action is required. If you are still interested in registering your child, please reach out to me via phone (540-375-7001) or email.
We are excited to provide this opportunity!
Mrs. Hunter Routt
Principal
Free Chick-fil-a, Anyone? Come to East Salem's PTA Math Night on Thursday, February 2nd!
Please mark your calendars to join us for Family Math Night on Thursday, February 2nd. We will be serving Chic-fil-A for dinner, followed by a chance to explore math activities around the building. There is no cost for this event! It will be a great night of fun.
Please help us be prepared with enough food for this event. Please register using the Google form.
You must register by Thursday, January 26th, 2023,
if your family plans to eat with us
.
East Salem's Book Fair! Check out the links below for all of the information!
Fifth Grade 3D Winners!
Fifth-graders used a program titled Tinkercad in Computer Science to create 3D designs. A panel of five teachers choose the top two designs in each homeroom to be 3D printed! These are the winners! From left to right: Jeremiah Mejia, Gabriel Hagy, Iris Wells, Leah Bowers, Vayda Young, and Kiernan Terry. Congratulations!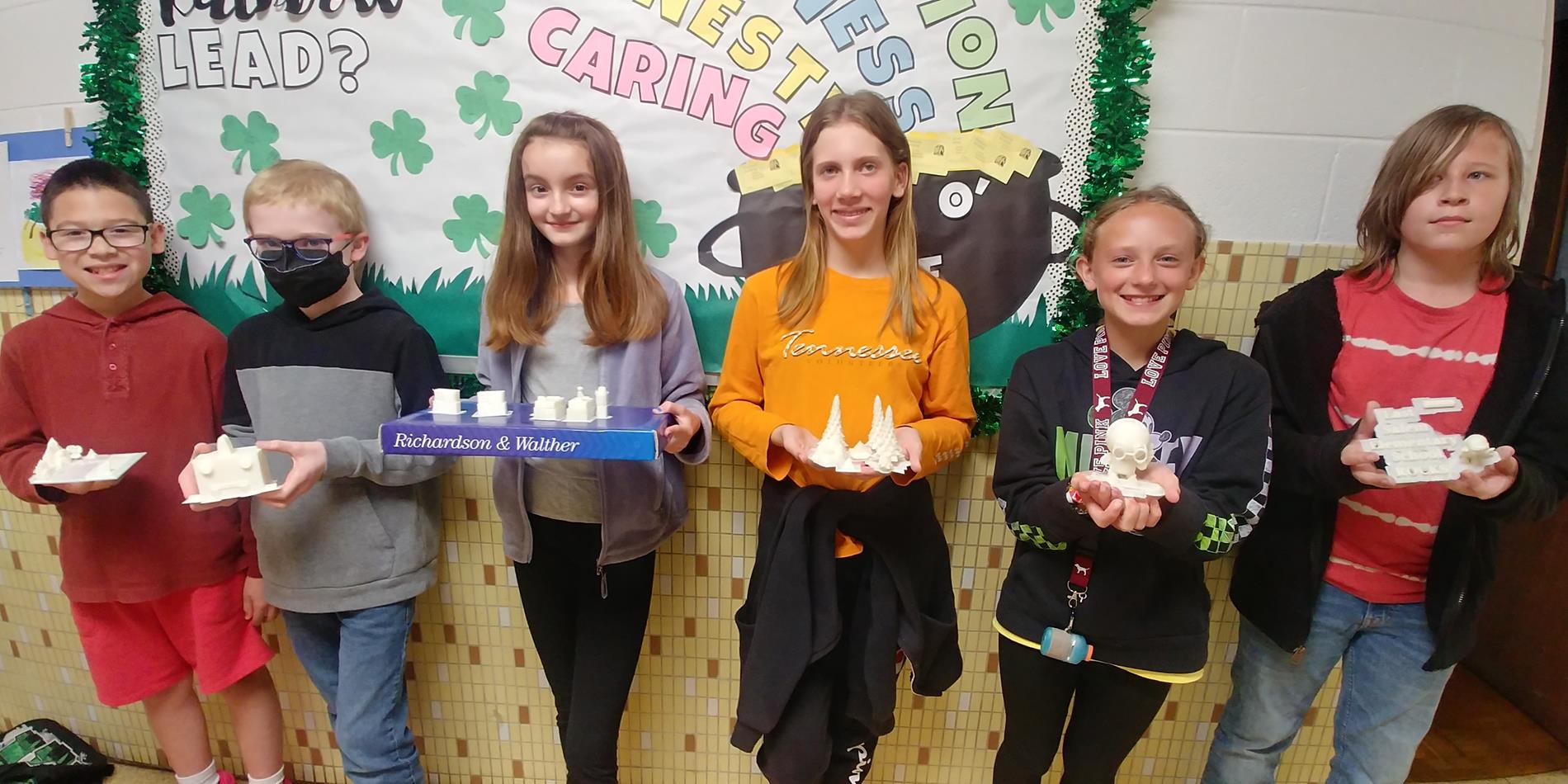 East Salem is turning 60!
Our school first opened its doors in January of 1962. Please help us celebrate this important milestone by wearing your favorite East Salem or birthday gear on Friday, January 28th.
Happy Birthday, East Salem!
East Salem Elementary School offers learning that will last a lifetime.
Kindergarten and New Student Registration:
Parents/guardians can register at the school for the 2021-2022 School Year.